Welcome to

publishers of Chivalry and Sorcery 4th edition, the Rebirth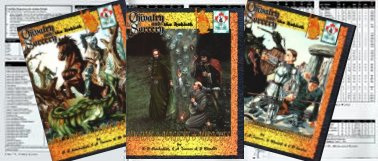 From the fantasy lands of The Dragon Reaches of Marakush, to the latest edition of Chivalry and Sorcery, the premier Fantasy Role-playing games for Medieval and High Fantasy Games, BGD has it all.

Check out our catalogue for details not only of rules and scenarios, but also sourcebooks for Dwarves, Elves, Armourer Mages and Knights, using the finest historical and mythical resources, lightly grilled and served to you carefully laid out and fresh.
BGD can accept Credit Card orders, phone or fax 01384-235-244. If you use IE (sorry, I haven't figured out how to make it work in NS yet) you can use our Interactive Order Form to prepare your personalised order or download the general PDF order form.
If you want to write for BGD then you should first pick up a copy of the

28th March
2004
Another in BGD's commitment to excellence in free gaming as well as our superb C&S product line. Play the ordinary men and women who became heroes in the 20th Century's greatest struggle of Good vs Evil, World War II - Our Darkest Hour (742Kb) here.

Our Darkest Hour uses the same system as C&S Essence and Vis Imperia Victoriana and is by David Blewitt, one of the main writers of C&S: The Rebirth.
---
---
[ Previous 5 Sites | Skip Previous | Previous | Next ]

This RingSurf Chivalry and Sorcery Ring Net Ring
owned by Brittannia Game Designs Ltd.

[ Skip Next | Next 5 Sites | Random Site | List Sites ] Want to be added to the C & S Ring? Then mail ed with your URL
---